10
Mar
Product Review: Zoe for Kids Organic Olive Oil
The Creative Kitchen gives a product review of Zoe for Kids Organic Olive Oil: "At The Creative Kitchen, we believe there's no such thing as too young when it comes to learning healthy eating habits. That's why we love Zoe for Kids Organic Extra Virgin Olive Oil! Olive oil is a heart-healthy fat that has been shown to lower blood pressure and decrease levels of bad cholesterol – so grab a colorful tin and help your whole family reap the benefits of this amazing food! Zoe's Olive Oil for Kids has a mild, sweet, fruity flavor with a delicate, buttery aftertaste that will please the pickiest of palates and make everything from stir-fry to pizza healthier and even more delicious."
Includes testimonial from kid and parent
Parent: "I know healthy eating habits start at a young age – that's why I introduced my children to Zoe for Kids Organic Extra Virgin Olive Oil. Zoe's olive oil is versatile and has a lovely buttery aftertaste that compliments whatever dish I'm cooking, plus the rainbow-colored tin makes it fun for my kids to help drizzle a touch of olive oil on top of their favorite foods."
Kid: "This olive oil makes my spaghetti taste so good!"
"Zoe For Kids Organic Extra Olive Oil"
At The Creative Kitchen, we believe there's no such thing as too young when it comes to learning healthy eating habits. That's why we love Zoe for Kids Organic Extra Virgin Olive Oil! Olive oil is a heart-healthy fat that has been shown to lower blood pressure and decrease levels of bad cholesterol – so grab a colorful tin and help your whole family reap the benefits of this amazing food! Zoe's Olive Oil for Kids has a mild, sweet, fruity flavor with a delicate, buttery aftertaste that will please the pickiest of palates and make everything from stir-fry to pizza healthier and even more delicious. We would also like thank Zoe for their support at the Kid's Food Festival!
From the Mouth of a Kid:
This olive oil makes my spaghetti taste so good!

From the Eyes of a Parent:
I know healthy eating habits start at a young age – that's why I introduced my children to Zoe for Kids Organic Extra Virgin Olive Oil. Zoe's olive oil is versatile and has a lovely buttery aftertaste that compliments whatever dish I'm cooking, plus the rainbow-colored tin makes it fun for my kids to help drizzle a touch of olive oil on top of their favorite foods.
Flavorful Features:
Zoe also offers: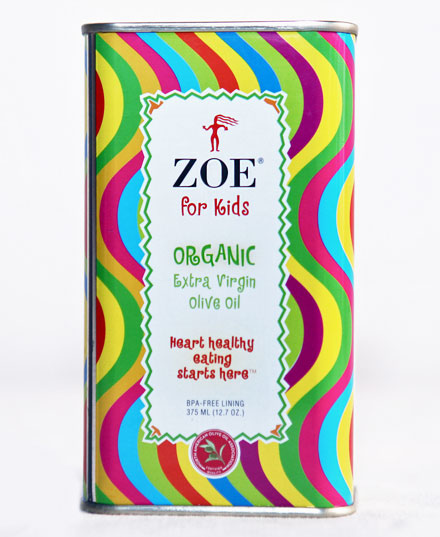 • Zoe Diva Select California Olive Oil
• Zoe Organic Olive Oil
• Zoe Diva Select Koroneiki
• Zoe Diva Select Cornicabra
The Icing on the Cake:
Zoe for Kids Olive Oil is organic and comes in a BPA-free tin. Olive oil contains monounsaturated fats which have been shown to promote heart health and reduce inflammation.

Time to Eat?!
Any time of day! Use Zoe for Kids to make scrambled eggs, sautéed veggies, salad dressing, and more – the possibilities are endless.
Mix it Up!
Instead of bread and butter with dinner, switch it up and serve whole grain bread with a bowl of Zoe for Kids olive oil, salt, pepper, and Italian seasoning for dipping.

The Creative Kitchen™, LLC, teaches children about food and how to cook in a fun, safe, and educational manner. Targeting families with children ages two to teen, the company focuses on teaching, writing creative content and curriculum, special events, recipe development, spokesperson work, webisode production and consulting to present educational and entertaining content through food-related activities. The founder, Cricket Azima, is an expert in cooking for and with children. She inspires kids to express themselves creatively through food and cooking, while complementing lessons with traditional educational material such as social studies, math, arts, science, and more. Visit www.thecreativekitchen.com for more information.